curated by Oluwatobiloba (Tobi) Ajayi
Twist Out
2019
ink on paper
10 x 8 in.
To the unknowing eye, Ashley Ja'nae's drawings could be read as abstract landscapes that flow between denser, kinkier pastures, and finer areas. Her feathered strokes are contained within self-imposed boundaries, but the mass of marks pushes against the edge, taking up as much space as Ja'nae allows. The works' titles hint at the artist's subject matter, firmly situating Ja'nae within legacies of Black abstraction that deny the proposition that what is abstract might not also be self-referential. Ja'nae gently tangles the lines between abstraction and figuration with the legibility of her drawings being dependent on the cultural literacy of the viewer. To some, her drawings are instinctively recognizable as Black women's hair, but to others, they are purely formal explorations. This embodied anonymity directly parallels the societal conditions that plague the Black woman, one of simultaneous hypervisibility and invisibility.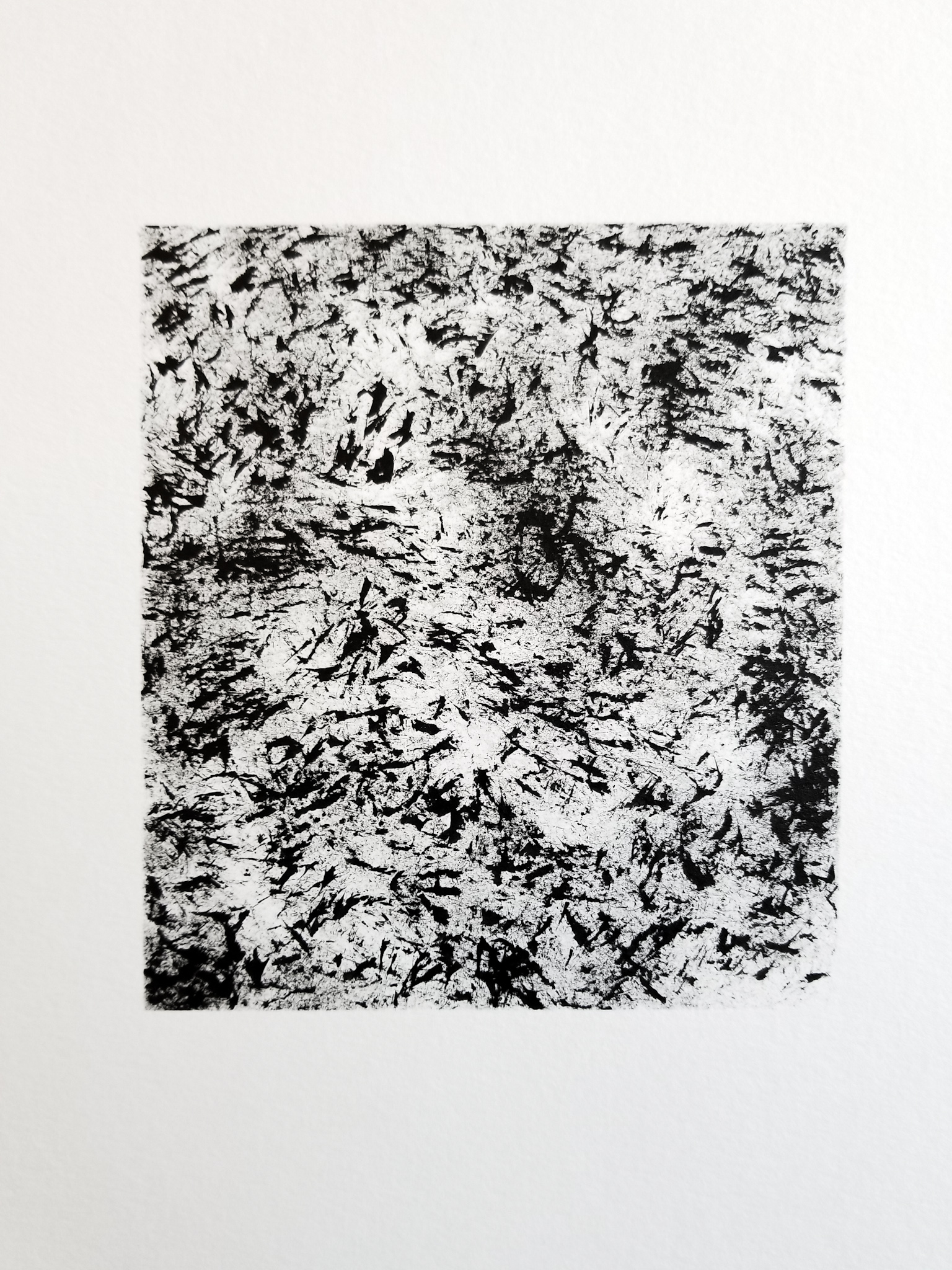 Hair
2019
ink on paper
10 x 8 in.
Finger Wave II
2019
ink on paper
6 x 4 in.

The crisp edges suggest the border of a printing matrix, but in actuality, Ja'nae undergoes the ritualistic process of imitating her hair's innumerable conditions with her ink-dipped brush. In making the drawings, Ja'nae replicates the motions of doing one's hair. Both processes show a commitment to the beauty of Black hair, and the drawings affirm the sanctity of each strand and of what it tells of its owner: tracing the coils of her existence. The network of curls are in intimate relation with her own body, but constitute a cipher that speaks to the kinks and coils of her desired audience. There is a striking nonchalance to her work, it does not render itself explicitly, but operates on the confident cool of "if you know, you know." If you don't, then maybe it is not for you. The work's exclusivity prioritizes a demographic that is in most scenarios the subject of mass exclusion. Ja'nae speaks softly to the Black women who see themselves mirrored in her detailing and I trust that she will get me right.
Dense
ink on paper
2019
6 x 4 in.
Laid
2020
ink on paper
17 x 11 in.


Ashley Ja'nae
is an interdisciplinary teaching and visual artist who received her BFA in Art & Design Education from Pratt Institute and is currently pursuing her MFA in Socially-Engaged Studio Art at Moore College of Art and Design. Ashley has exhibited her work in New York City, the Washington Metropolitan area, and Prague, CZ, and continues to facilitate learning experiences with middle school-age kids, affirming the validity of their intellect and encouraging research-based artistic practices.
Oluwatobiloba Ajayi
is a writer, visual artist, and emerging curator, currently studying at Princeton University. Tobi is pursuing a degree in Architecture with a certificate in Visual Arts, and is most interested in topics of space, geography, and the diaspora, as it relates to Black female identity. This summer she will be undertaking a research-based printmaking project, "Mapping from the Margins," that aims to explore such themes through scholarship and personal narrative.
For inquiries, please contact: info@straightlick.com
Curator: Oluwatobiloba (Tobi) Ajayi