Bakari Akinyele
Dreams of flight in the round
curated by Jenée-Daria Strand
Untitled 6 (Buttahfly series)
2020
cotton canvas dyed with natural indigo
43 x 25 in.

Dreams of flight in the round, the first ever solo exhibition to feature the emerging artist Bakari Akinyele, utilizes the virtual space to deliver a glimpse into Akinyele's artistic practice. An artist inspired by movement aesthetics––and his own embodiment of Capoeira––Akinyele pushes the boundaries of painting and textile art to examine dualistic concepts of Black liberation: both personal, and diasporic.

"In the round," is a term often used in performative settings to indicate both the performer's spatial pathway, and the and spectator's vantage points as occurring in a circle. Often, the performer operates at the nucleus of the space, while the spectators view the occurrence on the perimeter, in a circuitous form. This provides an invitational and immersive experience rather than a hierarchical one, as traditionally seen in western modes of engagement. Similarly, Akinyele's practice aims to combat traditional ideologies of painting by encouraging the viewer's intimate relationship with his visually rich textiles and intricate drawings. He encourages the viewer to lean in closely, walk along the length of the canvas, and consider their own physical and theoretical relations to the work.

Freedom/Movement
2020
ink on bristol board
19 x 26 in.
Akinyele intertwines traditional and contemporary practices, and ideologies, to create a highly technical and deeply relevant aesthetic. He draws upon an amalgamation of traditional shibori techniques from West Africa, South Korea, and Japan to physically bind storylines of historical references and personal narrative into the fabric, through the practice of resist dyeing. Resist-dye techniques allow Akinyele to control the movement of the dye; the dye resists certain areas of the fabric, and engulfs others, to create an image or pattern predetermined by the artist. Through his work, Akinyele encourages the viewer to consider: what ideologies might we resist, or embrace, to achieve liberation?
War Cry/Scorched Earth
2020
ink on hanji
28 x 22 in.

Bonaly Backflip(1998)

2021
cotton canvas dyed with natural indigo
42 x 12.5 in.

Children's Story

2020
cotton canvas dyed with natural indigo
45 x 18 in.
Brothas
2021
cotton canvas dyed with natural indigo
22 x 43 in.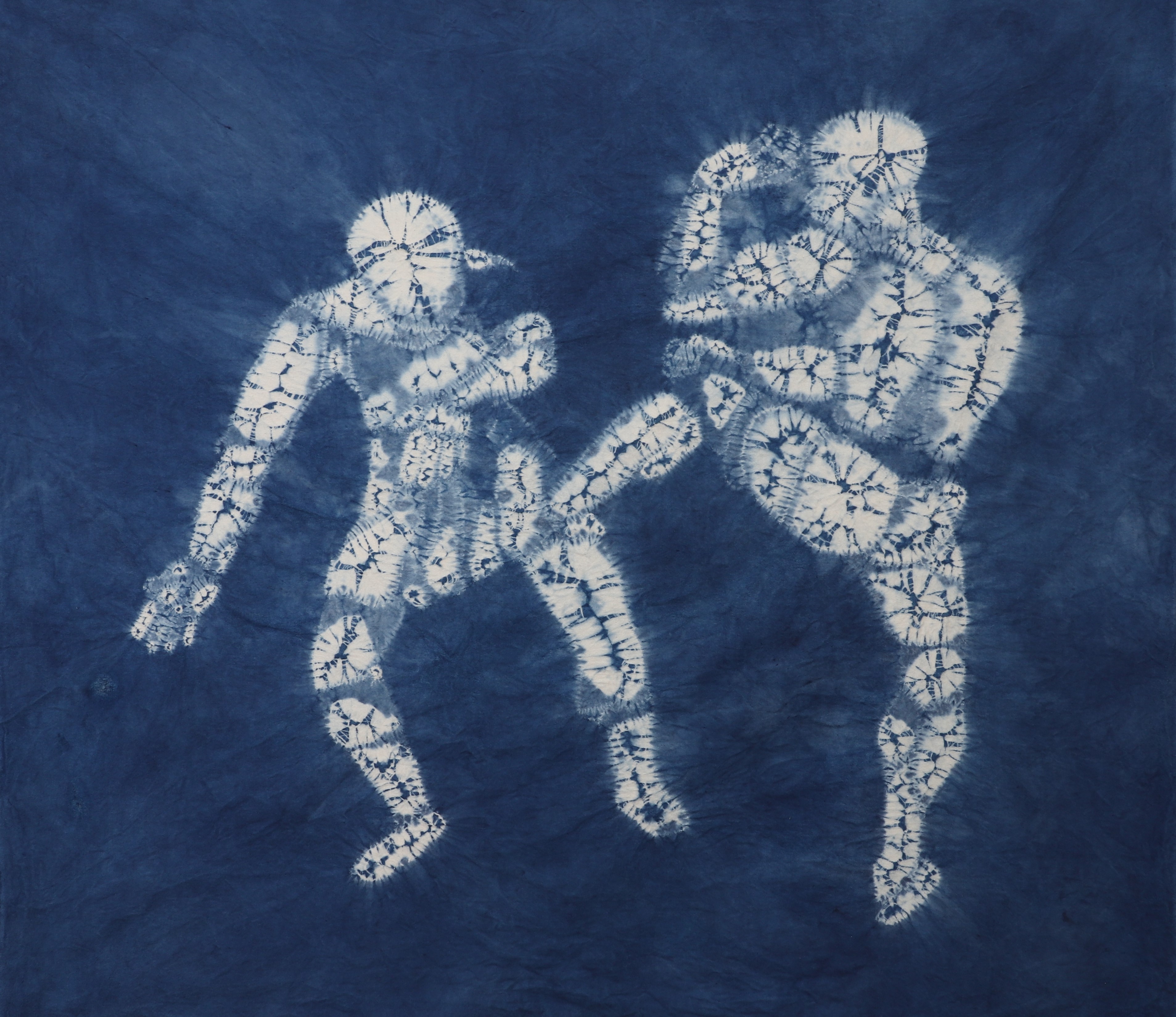 Capoieristas (1825)
date: 2021
cotton canvas dyed with natural indigo
43.5 x 38 in.
Do that lil dance you be doing
2021
cotton canvas dyed with natural indigo
47 x 61 in.

Bakari Akinyele (he/him) is a multimedia artist based in Washington, DC and currently working in Southeast Asia. His art practice incorporates natural dyeing, painting, and drawing. Akinyele studied political science, philosophy, and bioethics while attending Howard University where––drawing on the support of his peers and mentors––he developed an artistic education rooted in cultivating community. Utilizing concepts and principles of Bioethics and eco-consciousness, Bakari Akinyele imagines a future through the lenses of public and environmental health. Akinyele uses his art practice to reveal methods of creation that he believes can be carried over into the post climate crisis future––primarily expressed through materiality, story telling, imagination, and daily living practices.

Jenée-Daria Strand (she/her) is the Curatorial Assistant for the Elizabeth A. Sackler Center for Feminist Art at the Brooklyn Museum. There, she supports in the research and organization of numerous exhibitions, including Carrie Mae Weems' "Resist COVID: Take 6" and, most recently, "Lorraine O'Grady: Both/And." Independently, she has curated exhibitions for Showfields (NYC) and Gloria Gail Gallery (Brooklyn, NYC). Jenée-Daria aims to expand her knowledge of art history, and integrate her interests in performance practices, to examine Black subjectivity within the museum setting. She holds a BFA in Dance from Florida State University, and is pursuing an MA at New York University (NYU).


Beating feet
2021
cotton canvas dyed with natural indigo
48 x 35 in.
Prima Ballerina Copeland (2015)
2021
cotton canvas dyed with natural indigo
44 x 40.5 in.
For inquiries, please contact: info@straightlick.com
Curator: Jenée-Daria Strand
︎