Angelique Scott
Gone, the spring of Adolescence?
curated by Darciana Reynolds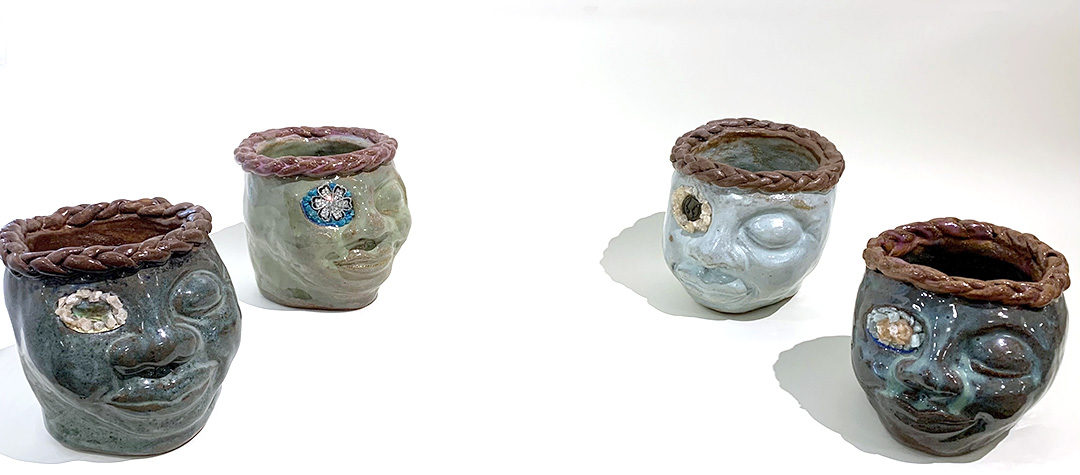 Flower Child Pieces 1-4

2019
Clay, Crystals, Glaze, Metal
"I don't feel colored all the time. I feel most colored when I am thrown against a sharp white background"- Ta-Nehisi Coates

In a world where black people are demonized and dehumanized it may be hard to believe that we spend some portion of our lives oblivious to this. These narratives of us seek to hinder our growth as not only an individual, but as a community. However, some of Black adolescence within our community is spent nurturing innocence. That innocence of a black child is under constant threat and supervision, but also helps to lay seeds that blossom into self actualization in later years. The body of work that Angelique Scott presents in a 'Straight Lick' speaks on this duality of innocence.
Flower Child Pieces 1-4 & Lady Justice

2017-2019
Clay, Crystals, Glaze, Metal
Gone the spring of adolescence? Is a body of work that seeks to spark a conversation about the beauty of black innocence and the underlying policing of it. Each piece created during/ behind pertinent moments in Angeliques life. As a child growing up she would spend time in nature in Richmond, Virginia with her grandmother. Every few months she would try to grow flowers in the yard. This time spent would influence her in later years where she would find herself back in nature. While seeking a more understanding of peace and womanism within her, Angelique created the Flower Children.
Flower Child Pieces 1-2

2019
Clay, Crystals, Glaze, Metal
She would again have a moment of self- actualization while creating Lady Justice in the same therapeutic nature but for different reasons. This time Angelique, an undergrad in a predominantly white college, would be faced with the tragic murder of Trayvon Martin. Lady Justice is a direct response to the personal and community grief felt by the artist. These experiences of beauty and delicacy of black childhood, both discovered and lost, is one 'Gone the spring of adolescence?' aims to shed a light upon. Though this conversation is not new it is still one of importance especially in terms of Black girlhood/womanhood and the lack of innocence that we are permitted.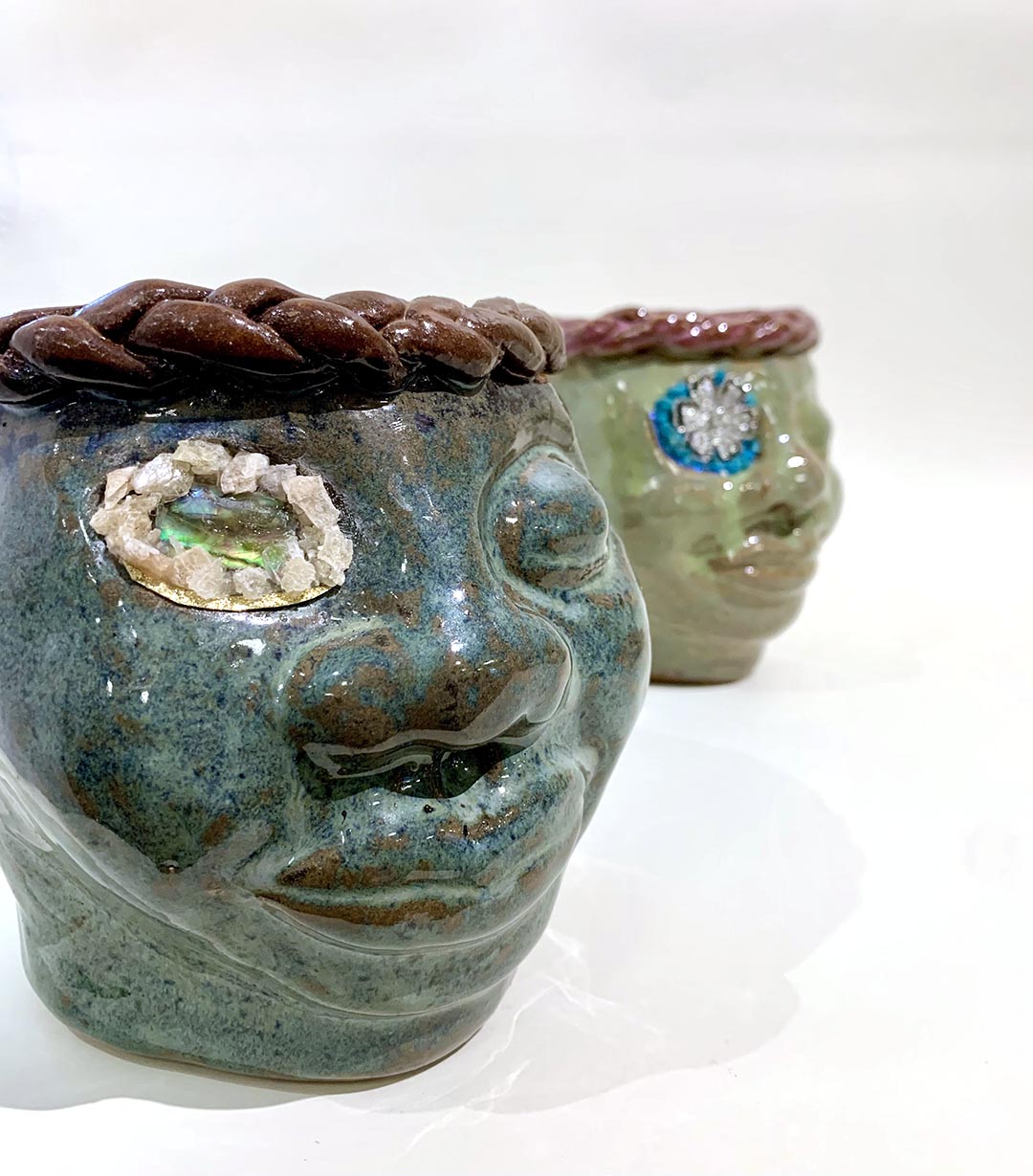 Flower Child Pieces 3-4

2019
Clay, Crystals, Glaze, Metal
The viewer is faced with this reality through the placement of the pieces. As the Flower Children arrest the viewers, Lady Justice can be seen lingering in the background. Watching/overseeing the growth and development of the children and their innocence. While the flower children should also be seen as a beacon of joy. For Black people deserve joy!
Lady Justice
2017
Clay, Metal, Glaze

Lady Justice (detail)
2017
Clay, Metal, Glaze
Angelique Scott has been working with clay for over a decade. She received her Bachelor of Fine Arts from Virginia Commonwealth University both in Art Education with a K-12 teaching license and Craft & Material Studies with a concentration in ceramics and fibers. She has participated in several national and international residencies including Vermont Studio Center, The Hambidge Center, and Skopelos Foundation for the Arts in Greece. Scott creates work about blackness as a social and cultural identity using clay and other mixed media such as fabric, wire, beads, and hair. She creates specific forms that communicate her cultural experience and invite the audience to engage in a vital dialogue about contemporary issues regarding race and culture.

Darciana rey is a photographer, poet, and curator. She is also the founder of an all Black Women art collective 'Lemonade in the Garden'. She uses both photography and poetry to capture her life and the world around her. She believes that it is our duty as humans to understand what has shaped us into the people we have become by diving into our past memories and into new ones. She graduated with a BFA in photography from the school of visual arts and is currently working between Delaware and New York City
For inquiries, please contact info@straightlick.com
Artist: Angelique Scott ︎
Curator: Darciana Reynolds

︎