The Book of Black Queer Spells
curated by Jacarrea Garraway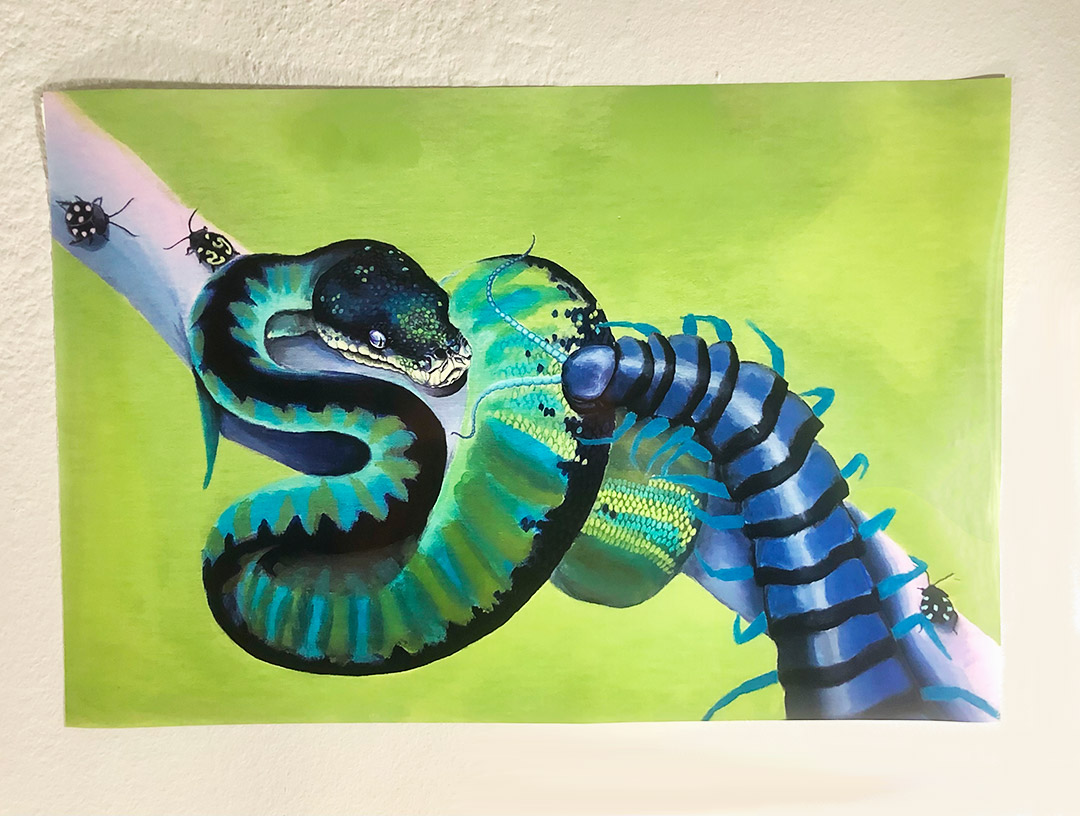 The Unholy Trinity
2019
print of acrylic painting
16 x 24 in.
"What you see can be deemed unholy, Creatures of the night, The creepy crawlies, That's what protects me from thy enemies, The Unholy Trinity."
The Black Art Sessions in collaboration with the artist Symphonii Smith-Kennedy is pleased to present the exhibition The Book of Black Queer Spells. Kennedy is a painter that hails from South Florida. At the age of 19, she has already started to create notable work that upholds her unique brand of visual storytelling and fascination with magical realism in relation to Black bodies. This exhibition features a series of paintings which explore mythology, spirituality and sexuality through surrealist imagery that hypnotically captures the magic which can come from a liberated Black imagination. The series portrays a melange of Black figures and animals depicting fables in still form. Given the legacies of Black fantasy outside the western lens, a series like The Book of Black Queer Spells aims to further put attention on Black narratives that evolve from more surrealist depictions of identity, legacy and cultural references via a queer perspective.

The oil paintings have a storybook-like quality that intentionally invites viewers into the fantastical tales hinted at within each image. Experimental Black storytellers tend to be overlooked when it comes to their influence on the historical art canon. Their avant-garde expressionism often intimidates those who choose to see Black communities as though they are a monolith culture. This is especially true for Black women whose voices fall within the avant-garde realm of artistic expression. Artists like Kennedy are a part of the ongoing and growing trajectory of Black artists who find a form of liberation within their artwork by not creating to appease the White male gaze. Heritage played a strong role in the conceptualization of this series, but the collection as a whole also demonstrate the individual spirit of the artist who adores the natural world and has created a way to maintain autonomy over her own personal image as a proud Black queer woman through her artistic practice.

Through Kennedy's emerging voice as a fine artist, The Book of Black Queer Spells exhibition poses to use the subjects depicted as a way to expand upon current mythologies while inventing new ones. Kennedy's aesthetic is boldly stylized and vibrant with paintings that are reminiscent of Rembrandt, but she instead strategically decides not to romanticize her subjects -- therefore subverting modern expectations of fantasy art and denouncing its colonialist history that upheld Eurocentric standards of storytelling as superior for centuries.
The Witch
2020
print of oil painting
20 x 16 in.
"Once declared, many fear. They fear the unknown, the magic, And despair within. Filled with hate for something they can't comprehend. Is this the essence of a witch?"
Danger in Hindsight
2019
acrylic paint on paper
30 x 24 in.
"Danger Danger everywhere, No one knows the one to fear. Playing a game with high stakes, Until it's too late."
Caught
2019
acrylic paint on paper
28 x 36 in.
"I thought I was safe. Making it out of harm's way. Instead I was caught, Red-handed, bloody, and stained. I wonder if it was my sins that gave me away. The sin of being a Black queer witch."
Behold the Celestial
2021
acrylic paint on paper
24 x 30 in.
"Loving Āmalikiti, on this present Day, We praise the new born child. Our Igziabeher and Savior, the Celestial."
The Savior
2020
oil paint on paper
24 x 18 in.
"My journey has been long, filled with tragedies and bliss, that I will not miss. Since my new role is not for my own survival, but the future's."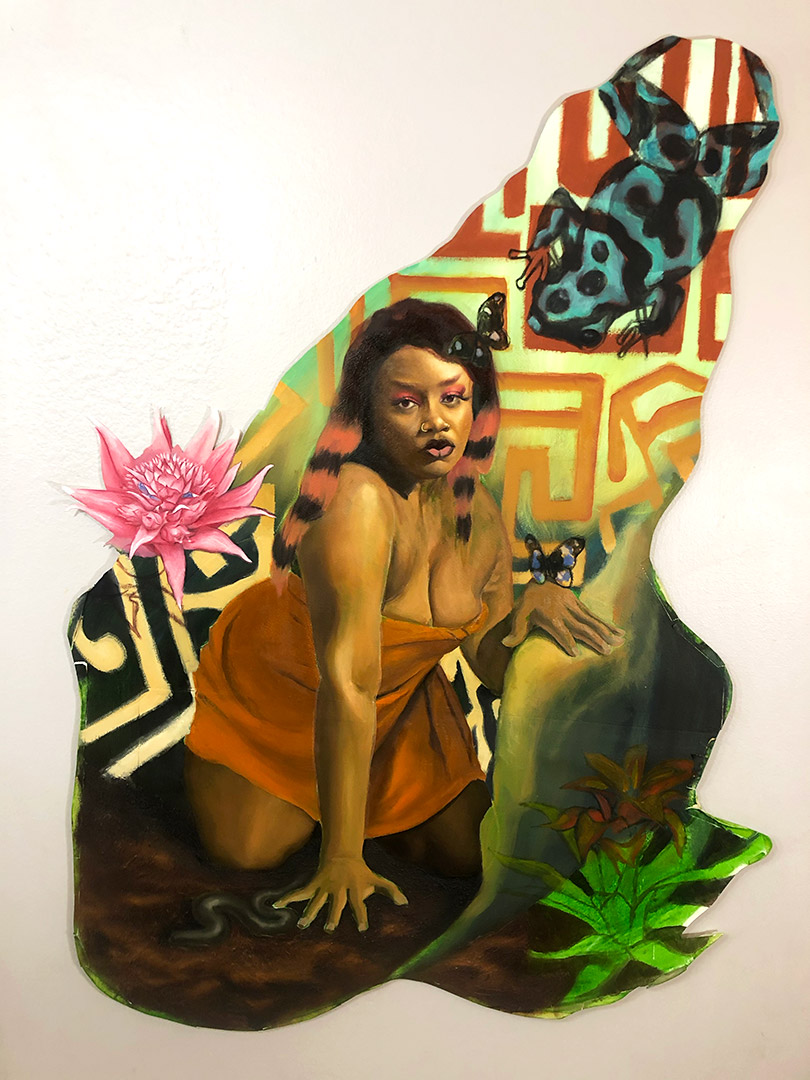 Congo
2021
oil and acrylic paint with acrylic medium
45 x 33 in.
"Separate from the rest, I tell a story from the centermost spot of Alkebulan. In the depths of the mighty jungle, where the the noxious ones dwell, with their beauty so intoxicating, men can only gaze for a moment, until they meet their end."
For inquiries, please contact: info@straightlick.com
Arist: Symphonii Smith-Kennedy ︎
Curator: Jacarrea Garraway ︎